Part of the mission of Windy City Habitat for Humanity is community building. To that end, we welcome all members of the Chicago community to support our mission through advocacy, volunteering, and financial support. The driving force behind our organization is our volunteers, who contribute their time, talent and resources. Volunteers work side by side with future Habitat partner homeowners to help them realize and fulfill their dream of home ownership.
There are a variety of ways in which to get involved beyond construction. Join us on a committee, in the office, or in the ReStore also!
Windy City Habitat for Humanity construction sites are located primarily on the South Side of Chicago. Volunteer days are Wednesday through Saturday, 8:00am-3:00pm.
All participants must be at least 18 years of age to volunteer on a construction site and 16 years of age to volunteer in the ReStore.

Waiver and Release Form must be presented to the Site Supervisor upon arriving at the site. You will not be able to volunteer without a signed waiver--NO EXCEPTION.

Your workday will consist of physical labor. You work at your own risk.
There is a mandatory orientation for all volunteers. To sign-up for our next orientation please contact our volunteer coordinator at

volunteer@windycityhabitat.org
.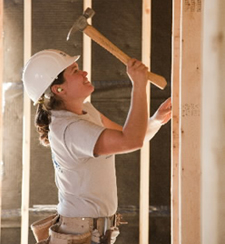 Dress Code:
No loose fitting clothing or jewelry
Absolutely NO SMOKING on site
8:00 a.m. until 3:00 p.m.
All volunteers are asked to invest in our mission with both their time and financial resources.
If you are not in a position to donate to our mission, consider fundraising as a way to engage others in helping our neighbors acquire simple, decent, affordable housing. You can donate online or by mail; please do not bring your donation to your volunteer site.
Volunteer as an individual. To secure a build day, we ask that you make a minimum donation of $50.

Groups (A group is defined as 10-20). In order to secure a group volunteer build day, you must make a charitable contribution to our mission. Typically, there is a minimum of $5,000 per build day for a maximum of 20 people.