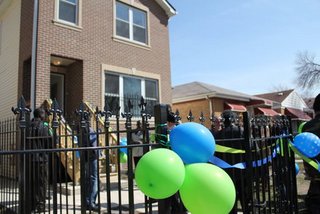 Qualification to become a Habitat for Humanity Chicago Homeowner is based on three criteria: need, ability to pay, and willingness to partner.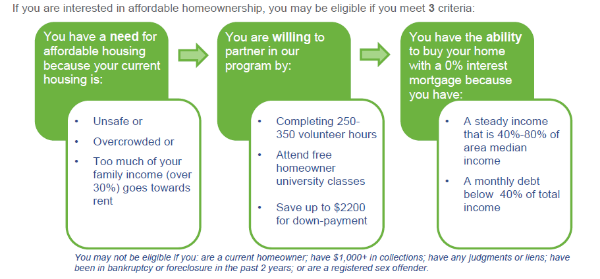 Need is determined by the applicants' current shelter. Evaluation of conditions in current housing, which may include, but not limited to:
Structural problems

Problems with plumbing, sewage, or electrical systems

Unsafe heating system or no formal heating system

Little or no insulation

Lack of functioning entrance and exit points (front and back doors)

Unhealthy conditions including, but not limited to, mold due to roof leaks or pest infestation due to structural cracks and crevices

Inoperable kitchen or bathroom

Overcrowding (determined by number of persons, their ages, and gender)

Cost-burdened (cost of rent plus utilities-excluding phone- is greater than 35% of family's monthly income)

Homelessness (living with friends or relatives or in temporary housing)

Family has been denied conventional or government assisted housing
Willingness to participate as a "partner" with HFHC
Sweat Equity requirements: 250-350 hours

Monthly homebuyer education classes: Evening and/or weekend hours

Must agree to a home visit prior to being selected into the program
Current income and ability to pay for a Habitat house is assessed based on the following:
Applicant Debt to Income Ratio (DTI) below 42%

No judgments or liens more than 2 years old

No collections over $1,000

If applicable, bankruptcy and foreclosure discharged for at least 24 months

Savings ($500 minimum) with ability to save an additional $1200 for closing costs

Applicant income must be between 40-80% of the area median income, depending on family size. Refer to the City of Chicago Area Median Income Chart for more details
Recommendations:
Pull credit report
Visit our build site in West Pullman (119th - 120th and Union St)
See More

View home floorplans.
Read homeowner testimonials.
Review the overview.