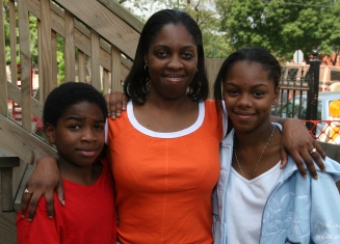 Partner Homeowner Testimonials
March, 2012

I was born in the state of Hidalgo, Mexico. God has blessed us to be able to be citizens of this great country and to welcome us with open arms and with a lot of affection.
I began to follow my dream of owning my own home with more space, in a better neighborhood, and to be able to leave this small apartment where we have lived for more than 18 years. I have spent more than two years looking for a way to buy my own house where the mortgage wasn't too high, because I have to pay for college tuition for my son. I became discouraged because the monthly payment was always too high and I couldn't pay it alone because I am the only one working.
One day, while speaking with a friend, she said, "I think that we are never going to be able to have our own home because we are poor and there isn't a man who supports us. I told her that we are going to be able to have a home because God will help us and give us a home. She and I spoke and looked for a cheap home, but the real estate agents didn't want to help us because they thought that it was a waste of time.
One night my friend called. She was very happy and said to me, "When I lived in Florida, a friend told me about an organization that helps poor people buy a home and you do community service to help construct the house. The organization is called Habitat and I looked for it online and I found the organization in Chicago.I made an appointment online for us to go to a meeting. I said that I was interested. I thought it sounded too good to be true. I went to the meeting unconvinced. When I left the meeting, it still sounded too good to be true but I was also excited.
I sent in all the required documents and prayed to God that I would qualify. When I received the approval letter I cried and gave thanks to God. Now I am doing my community service hours, very tired, but extremely happy that soon my dream will come true.
I give thanks to God and to all the beautiful people of Habitat that have treated me as if I am part of their family. When I go to the office, I always feel at home. I wish a blessing on each person who has helped me. God bless you.
Sincerely,

Fernanda




To Own a House --
I am happy that my mother, Tenisha, is now an owner of a home. That means so much to me to finally have the chance to live in my own house. I have been waiting to have a house with an upper floor. I have always wanted to live in a big home. To me, this is a once-in-a-lifetime experience. I am happy that people have made it possible for my family and other families to live in a beautiful home. I was very joyful when I found out we qualified for this house.
I will never forget anyone who made it possible for my family to have a house of our own. I have wished to live in a house for my entire life. Owning a house is very important. It shows responsibility and much more. To me, life doesn't get any better since this is what I've been wishing for and it finally came true.
I will cherish this house till I die. If you ask me, this is a Kodak moment!
Growing up as a child, I lived in a home. There was myself and three other sisters. As an adult, I dream to provide that same stability to my children who always ask me to buy a home. Of course, the process is hard and financially it's hard to save and try to maintain a home.
Becoming a homeowner has been a dream come true. I've always dreamed of raising my two children in a nice home full of love and stability. I always wanted to give my children the space and time to grow and this is a dream come true thanks to Habitat for Humanity.
- Tenisha

My Short Story --
I woke up only to find a rat racing across my body, leaping off my shoulder and swooshing through my hair as it escaped behind the bed. This was a typical day for me at my home when I was 14 years old. I lived like that for years, and I vowed that I would never live in those conditions again.
All the odds were stacked against me. My mother passed away of breast cancer, and my grandmother took off soon after. This left me feeling like I didn't belong anywhere in the world. That is when my desire to have a home was burned into my heart. I didn't drop out of high school, and I even earned a college degree. I succeeded in having a career earning up to $32,000 annually.
Sadly, though, I have an affliction that caused me to be disabled five years ago. I thought my dream of having a home would never come to fruition. However, through Habitat for Humanity, I have been given a wonderful opportunity to have a place of my own...a place where I can belong--more importantly, a place where I can build stability and start new traditions with my son. Having a home will break the cycle of poor living conditions for me and my son. I look forward to starting my sweat equity hours for it will bring an overwhelming sense of pride in having a hand in the "building blocks" of my future.